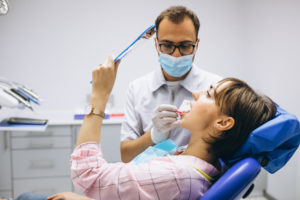 They say that first impressions leave lasting impressions, so what better way to do that than with a vibrant and healthy smile?
At OralCareExpert.com, we believe that having a healthy mouth and strong teeth are essential not only for appearances, but also our physical health. They let us digest and chew food, help us communicate by speaking clearly, and contribute to our facial structure.
Smiling also has mental health benefits, which can improve our daily life. It can make us not only look confident, but feel confident as well. A bright smile makes us look friendlier, more approachable, and this can positively improve our relationships, careers, and social lives.
As a result, we should provide the best dental care possible so that we can enjoy the benefits of great oral health. Click on any of the articles below to get started on your journey to better oral health.
Our Latest Articles
Learn How to Improve Your Oral Health
OralCareExpert.com is a website dedicated to improving your oral health, by educating you on why it is so important and providing tips on the best ways to maintain or improve it. As mentioned above, good oral health will literally change your life.
A healthy smile will drastically improve your appearance, both physically and mentally. Your mindset is as much a part of your overall health, and improving your body and mouth contributes to that. Let's go over what exactly are the benefits of good oral health.
Keep Your Teeth For Life
You see this all of the time in TV shows and movies, where an elderly person who wears dentures (false teeth) comically spits it out as part of a joke. That is not the fate of all elderly people, because with proper dental care, we can keep all of our adult teeth as we age.
By eating a diet that is low in sugar, brushing and flossing your teeth twice daily, and going to your regularly scheduled dental appointments, you can reduce the chances of developing gum disease and dental decay, which results in tooth loss.
Some studies have shown that the number of teeth one has has a strong correlation to how long they will live. Specifically, they found that the more teeth that an individual has at age 70 meant they were more likely to live longer than those with fewer teeth. Furthermore, research shows that tooth less in the elderly resulted in faster physical and mental decline.
Even though gum disease and dental decay are serious issues, they can be almost entirely prevented just by brushing, flossing and going to the dentist.
Avoid Gum Disease
In addition, having healthy teeth and gums means the chances of developing certain cancers are lower, especially for women, and some forms of dementia can also be prevented.
In a new study, which looked at data from 65,000 post-menopausal women aged 54 to 86, found that women who had gum disease in that past were 14% likelier to develop cancer. Of those at-risk women, one in three developed breast cancer, and the rest had an increased likelihood of getting esophageal, gallbladder, lung, and skin cancers.
In a similar vein, those who had healthy gums were 70% less likely to have Alzheimer's disease compared to those who had a long history of gum disease.
Prevent Halitosis and Stained Teeth
Have you ever spoken to someone who has bad breath (halitosis)? Many people have bad breath, and the cause is often due to plaque buildup or untreated tooth decay or gum disease. In addition, it is undesirable and embarrassing to have halitosis.
Neglecting your oral health can also result in stained teeth. This can happen naturally over the years, as the enamel is worn down through wear and tear. However, it is exacerbated by smoking, or drinking lots of red wine, tea, or coffee.
Stained teeth is not necessarily a good indicator of one's oral health, but having noticeably stained teeth may cause one to feel self-conscious.
For the most part, surface staining can be prevented by regular brushing and flossing, though more persistent stains will have to be cleaned by a dental professional.
Dental Product Reviews
There are numerous oral health products that you can use to clean plaque, food debris, and bacteria from your teeth and gums. We highly recommend you use a water flosser and electric toothbrush, as these tools are much more effectively than just regular brushing.
Water flossing is a safe and effective way to eliminate plaque from your teeth and gums. There are many kinds of water flossers, such as countertop, cordless, and combination flossers.
Oral Hygiene Guides
We have written many guides on how to maintain a proper oral hygiene regimen, covering topics like brushing, flossing, braces, and halitosis.
If you would like to do some additional reading on dental care guides, then we recommend this comprehensive resource.